PTAL at virtual EGU 2020
On the 4th of May, we presented results from PTAL at the European Geosciences Union Congress. This year, the congress was organized in a virtual, 'Share Geosciences' format. Two PTAL members, Agata Krzesinska and Benjamin Bultel, co-convened the session 'Martian Science and Exploration', which was attended by ~300 on-line participants - a record number of the day.
PTAL results were subject of five on-line displays, presented by Marco Veneranda, Guillermo Lopez-Reyez, Benajmin Bultel, Agata Krzesinska, Stephanie Werner and co-authors. In these presentations we reported on PTAL achievements that covered all the aspects the project deals with: laboratory experimental results, status of analogue collection and spectral database, applicability of the collection for further analogue tests, as well as exploitation of spectral data to approach important questions in geology of forthcoming landing sites on Mars.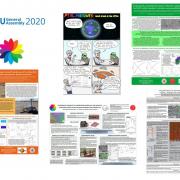 Click on the image for a larger version